Designing a tool or building
Atelier Paysan is a hub of technical resources for small scale organic farming. Engineers and equipment are available to help farmers design, test and distribute tools and machines, which can then be adapted and reproduced. In 2015, an architect joined the team to support farmers in their projects constructing and renovating agricultural buildings.
Atelier Paysan is not a design office offering technical solutions based on the scientific calculations of our engineers. Our work begins when a well-defined group of farmers ask for our support and guidance. However, we do promote and support the creation of working groups. This involves coordination work on our behalf, as well as regular contact with local networks of farmers.
We are careful with the tools that we agree to develop, and ensure that they respect the ethical principles of Atelier Paysan. We want to develop agricultural machinery which supports small scale organic farming, and which can be appropriated and modified by farmers.
We aim for farmers to contribute to the cooperative's decisions and lead its vision. For example, farmers affiliated to the cooperative have in the past refused to mobilise resources to develop open source drones or self-built robots, as they felt it opposed the principles and values of the cooperative!
Our methodology is as follows:
"Use" and "User" are the starting point all our innovations
We only work with groups of farmers and do not respond to individual requests
We write up a set of specifications with the group
We put forward initial designs to the group
After a series of feedback sessions and modifications, we begin prototyping together
We then test out the prototype on the participating farms
If we reach a consensus, we publish the design for the tool or machinery, which in future can be used in our training courses
Examples:
Hippotèse is an organisation promoting the development of animal draught power. They contacted us in 2013 to take part in the modernisation of the Bucher, a piece of Swiss made equipment from the 1950s. We have developed this complex tool with a working group. Following the construction of several prototypes and feedback from ten users, we have designed a working tool which can now be produced in our training courses.
Visit Hippotese' blog for more information or download the blueprints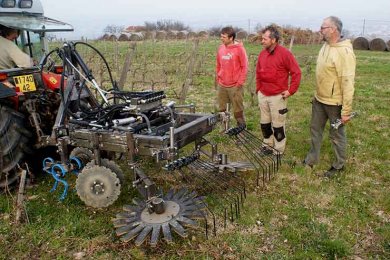 A similar process took place with a group of wine-growers in the Rhone valley to design and prototype a tool adapted for cultivation work on steep slopes.
Click here
and here for more information

The plastic rolling machine was developed in 2014 after researching this type of tool on farms within our network. The design process was participatory and collective.
Click here for more information
Alongside several groups of farmers, Atelier Paysan has developed tools adapted to the innovative practice of permanent cover vegetable production.
Creating building structures
As part of Atelier Paysan's newest remit, our architect advises farmers on their collective questions and ideas around the design and conversion of agricultural buildings. We visited farms and documented conversions, new builds, and plans for agricultural buildings. Information on these are now available on the forum. We have included tips and advice on how to convert buildings and organise the space according to the needs of the farm and the farmer. We show what other farmers have done with regards to building materials and the construction of the building itself. We also showcase the inventive and resourceful strategies they have found along the way so their buildings are compatible with the needs of the farm, as well as affordable: using materials already available, mobilising friends around them to help out, etc.