BPO Strip-till
Also mountable on the tool bar, the strip-till is used to mark out planting or sowing lines in green manure which has been broken up by rolling and/or sheeting, or frost.
CLICK HERE TO DOWNLOAD THE LATEST VERSIONS OF THE PLANS
Planting can then be carried out by hand or with a planter (take care though that it is well adjusted and well driven so that you can follow the lines). Whereas the seeding can be carried out with a single row seeder it may be difficult with a multi-row seeder, which might not have the right amount of clearance.
Each unit is equipped with a coulter disk to cut through the vegetal surface layer. The disk will work all the better if the cover has been angled in the direction of work. The disk should penetrate 4 or 5cms into the soil to cut right through the vegetation. This is followed by the adjustable soil-loosening tool which should be set at a depth which varies with the crop to be sown and soil conditions. The two units are mounted with a security bolt, which will prevent the teeth being bent if they should meet with an obstacle. The 'pastry cutter' retractable disk is there to improve the tilth if necessary and to make the seeding or planting easier.
Depending on the conditions and the working depth, the tool may open a larger than required furrow. To deal with this problem, we are looking for solutions, such as a little skirt made from quarry conveyor belt which will soon be having field trials. As things stand, this is the option which has been chosen for vine seeders (photo).
Adjustment of the working depth is ensured by the gauging wheels on the tool bar and the length of the third tine. However, the adjustment of the disk and tine on each unit must first be carried out. On a 120cm wide strip one two or even three rows can be marked out at once. However, any more than this, especially if the covering is deep, and there is a risk of the lines clogging up.
This technique of planting under cover is still at an experimental stage in organic agriculture. All the parameters, which include: green manure, seeding dates, breaking up dates, rotations, compatibility or even the battle against rodents have still to be explored and fine-tuned.
Since this tool is very simple and mounted on an all-purpose bar, it can be tested and tried out at low cost.
We are awaiting the results of considerably more experimentation and development in the near future! Watch this space as regards other groups working on the same practice: Buzuk, SEFerSol, GRAB and MSSV.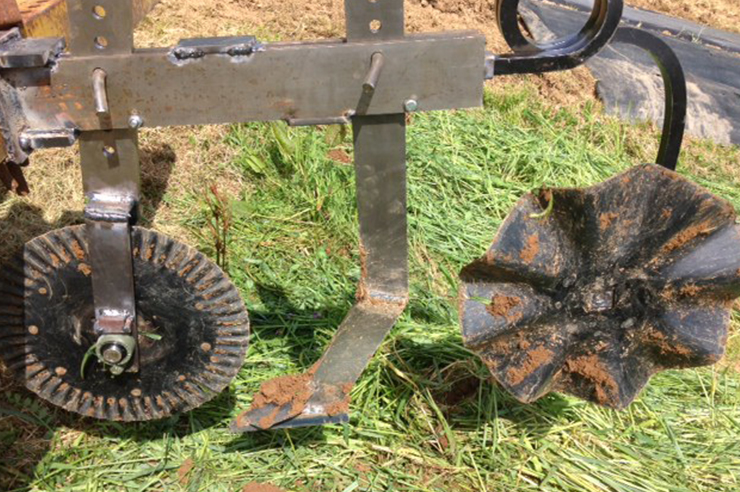 General view
Detail of the 'pastry-cutter' disk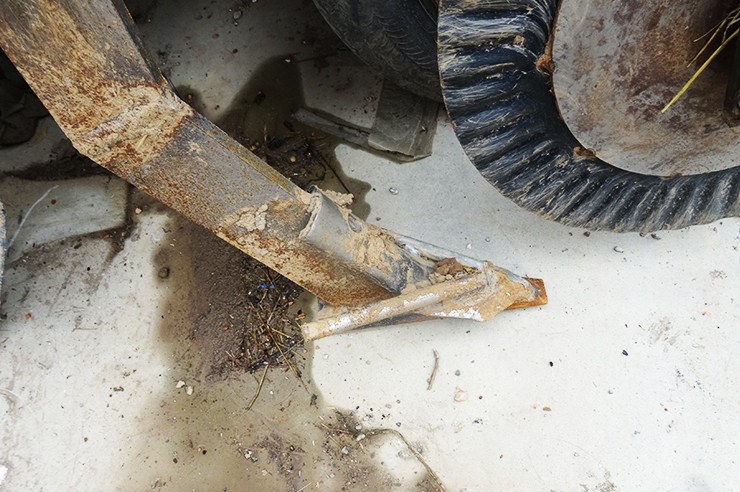 Detail of the tine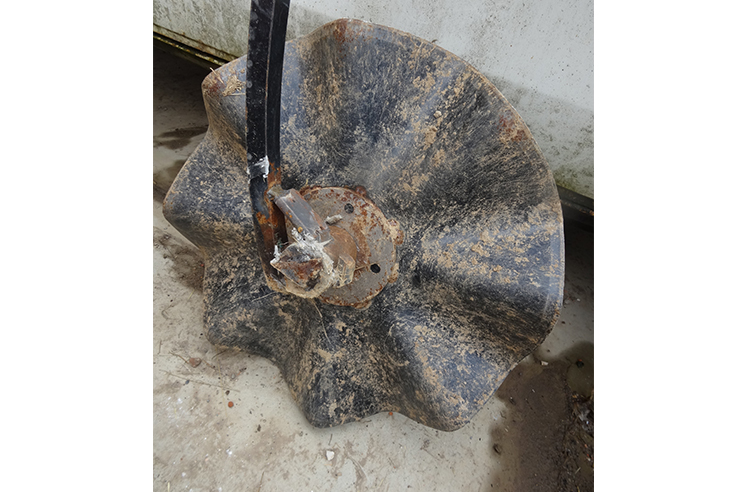 Detail of wavy disk
Detail of the mounting of the 'pastry cutter' disk, ensuring rapid removal